AUTO-IS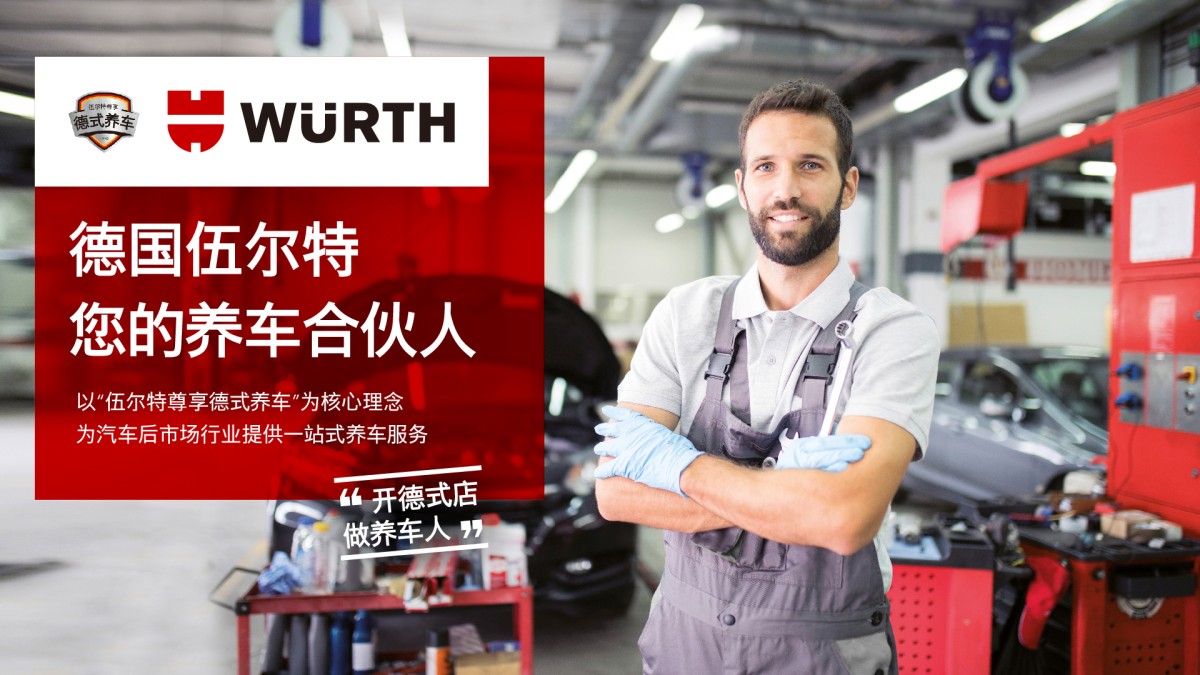 AUTO IS DIVISION
Würth German Style Car Maintenance
Würth originated from the birthplace of the first car - Baden-Württemberg, Germany and has nearly 80 years of service experience in German-style car maintenance. Würth accumulates rich experience in products and services, and demonstrates them under professional German quality and rigor in daily services with our customers. Our core concept is to provide the "Würth German Style Car Maintenance" to every car owners. "Run a German-style Car Shop, Be a Real Car Owner" is our value proposition, strictly following the German-style standard operating procedures to maintain the cars. Würth wants to bring an immersive experience to every customer who visits a Würth Auto Shop, just like coming to "An Auto Shop from Germany", where provides a full series of chemical products and tool equipment for car care and maintenance for the automotive industry.
High Quality Complete Product Line
Würth provides a full range of chemical products and professional tools for the automotive aftermarket, and has become a reliable supplier to provide car care and maintenance products to a number of European car brands and their after-sales services. With great commitment to help customers increase work efficiency and reduce working time, Würth becomes customers' reliable and excellent strategic partner. Our car maintenance products cover seven core ranges: engine lubrication system, fuel intake and exhaust system, air conditioning system, coolant system, brake system, underbody work and car care and maintenance.
Run a German-style Car Shop, Be a Real Car Owner
In 1994, Würth brought the concept of "German Style Car Maintenance" to China, meanwhile bringing German quality and German-style car maintenance services to the market. Since 2019, Würth has vigorously expanded its multi-channel development strategy, upgraded and empowered the cooperated car shops into "German Style Car Maintenance". To date, there are more than 300 Würth Auto shops across China. Würth always pursues the value of "Run a German-style Car Shop, Be a Real Car Owner". We actively implement the standardization in shop decorations and customer services, and we effectively use our successful Würth training system to help our partners in automotive aftermarket to improve their operational efficiency. Würth Auto Shop advocates "Maintenance is Greater than Repair", and provides the one-stop Auto maintenance service covering car care, professional technique training and other application fields. With rigorous German attitude and standard operating procedures, Würth has witnessed and promoted the development of China's automotive aftermarket.
Since entering China, Würth has been actively cultivating the Chinese automotive aftermarket, vigorously deploying digital marketing tools, and combining the refinement and details of Würth German Style Car Maintenance concept. It is embodied in three dimensions: improving car owners' awareness of car maintenance, increasing car shop operation efficiency and upgrading technicians' professional skills. Moreover, Würth always dedicates in meeting local customers' needs and demonstrating the exquisiteness and rigor of German car maintenance in the daily services. We truly believe that with our spirit and the daily practices more and more partners who agree with our philosophy will join our Würth Auto Shop team to "Run a German-style Car Shop, be a Real Car Owner".